Charity Oriental-Occidental Brunch with Screening
16. June 2019@10:00-15:00
Free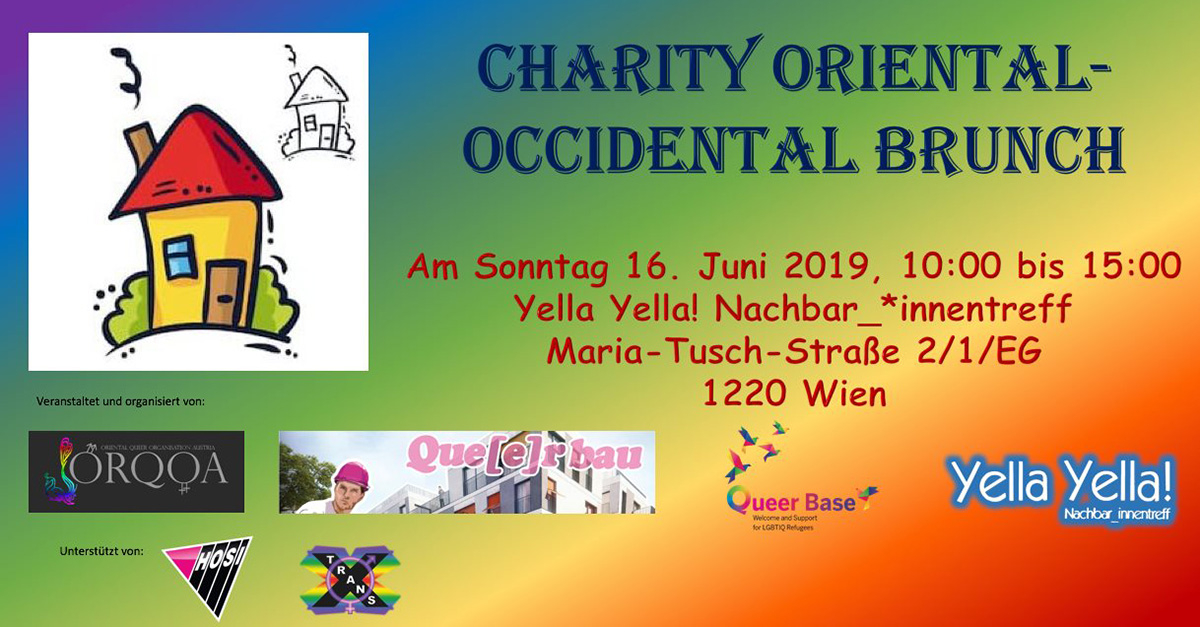 The Oriental Occidental Brunch is intended to raise funds for the Queer Refugee Housing Project (QRHP) in Que[e]rbau Seestadt through donations. The RHP creates adequate living space in socially just housing projects also for people who have just arrived in Austria, gives them the possibility of safe housing according to local housing standards and integrates them into the community – a community that supports them, enables cultural reciprocity and becomes an interface for exchange. There are currently two apartments within Que[e]rbau Seestadt for people who have fled because of their sexual orientation or identity. The residents, five former asylum seekers, meanwhile recognised refugees, are jointly cared for by QueerBase, ORQOA and Diakonie. In the meantime, they have become active Seestadt people and would like to stay here. In order to maintain their living space permanently, ORQOA, QueerBase and Que[e]rbau, need a sum of about € 5,000. They will raise this sum through their charity brunch and with your selfless support. Therefore they invite you to join the Yella Yella! Nachbar_*innentreff in the Que[e]rbau Seestadt. On the occasion of their first charity brunch, they show the film "Eingeschränkte Freiheit" by the young Afghan filmmakers Sabur Azizi, Sajad Maliki and Mohammad Benyamin Yaghubi, which gives an insight into the life of LGBTIQ asylum seekers in Austria.
The brunch will not only be a culinary delight but also illustrate the meaning of the organisers' efforts who will also offer guided tours of the house.
Come, enjoy and do good!