EuroPride Special @ Belvedere 21
8. June 2019@11:00-18:00
Free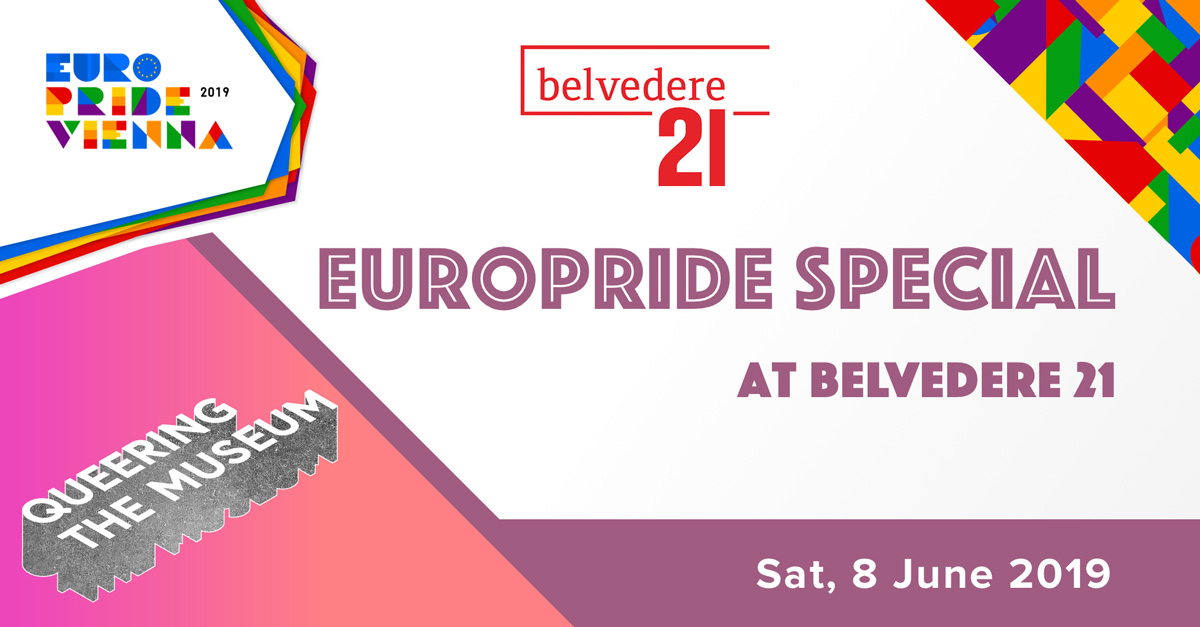 "Queering the Museum"
This programme focuses on queer topics in museums. Que[e]rbau Vienna, a queer housing community, together with their groups Seestadt and Wildgarten present their joint building projects. The Viennese historian Andreas Brunner shows the queer side of Prince Eugene of Savoy. The London curator Clare Barlow talks about the exhibition Queer British Art 1861–1967, which she realized in 2017 for the Tate Britain in London. The Polish art historian and curator Paweł Leszkowicz discusses his exhibition Ars Homo Erotica, which was shown at the Polish National Museum in Warsaw in 2010. Presentations of queer refugees and the re-staging of the performance Clever Gretel by artist Stefanie Seibold from 1999 conclude the programme. During the lunch break, a guided tour of the exhibition Feuerstelle will offer a queer reading of Christian Ludwig Attersee's oeuvre.
11.00 a.m. Presentation Que[e]rbau Wien
12.00 noon Lecture Andreas Brunner, "Queer Prince Eugene of Savoy"
1.00 p.m. Joint lunch break and "Queering Attersee" – guided tour of the Attersee. Feuerstelle exhibition with Carola Fuchs
2.00 p.m. Presentation Clare Barlow, Queer British Art 1861–1967
3.00 p.m. Presentation Paweł Leszkowicz, Ars Homo Erotica
4.00 p.m. Presentation Queer Base – Initiative for LGBTIQ-Refugees
5.00 p.m. Performance Stefanie Seibold, Clever Gretel 1999–2019, with Charlotte Gash, Mette Riise Kristensen, Gašper Kunšič, and Nora Kurzweil
For more information visit https://www.belvedere21.at/joint_ventures_2019
Notice: On Sunday, June 9, at 1.00 pm an additional performance of Clever Gretel 1999-2019 will take place at the Belvedere 21.
Additional events:
THEMATIC GUIDED TOURS
Queering Attersee – Performative Self-staging
Friday, 14th June 2019
14:30 | in English
15:30 | in German
THEMATIC GUIDED TOURS
Prince Eugayne – Homosexuality in Arts
Friday, 14th June 2019
17:00 | in English
18:00 | in German