EuroPride Musical "Bodyguard" @ Ronacher
8. June 2019@15:00-17:30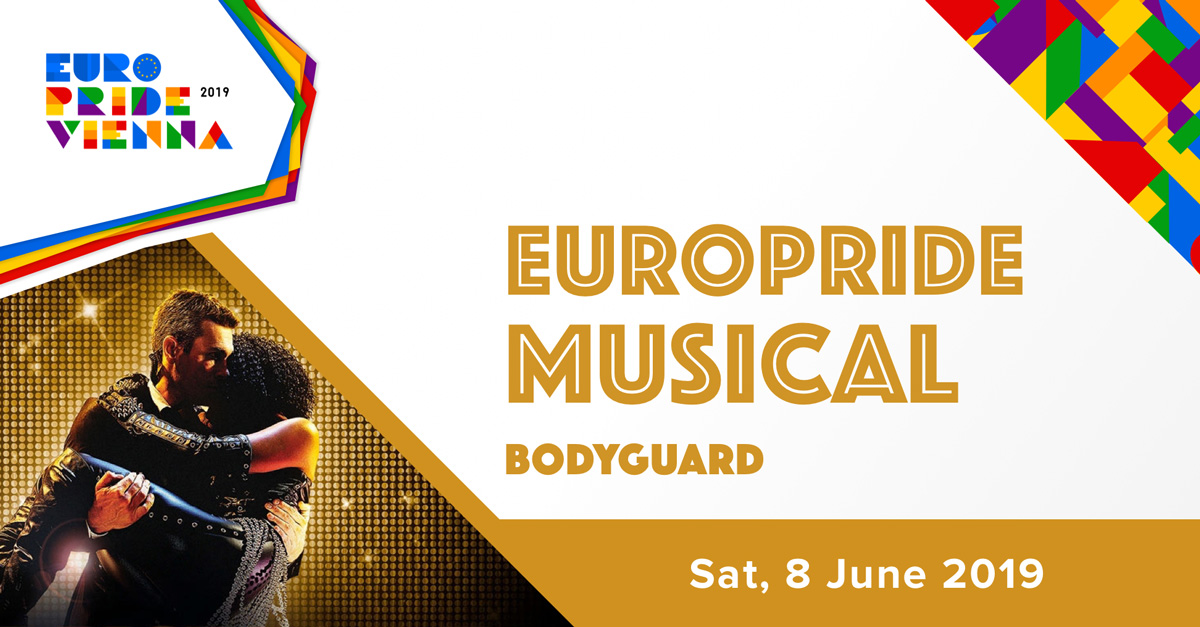 Together with EuroPride 2019, the successful international production "Bodyguard" – Das Musical" offers a special performance for all musical lovers, Whitney Houston fans and anyone who wants to enjoy a cultural afternoon. In addition, from now until 16 June there are special discount prices for EuroPride visitors*: for selected performances of I AM FROM AUSTRIA and BODYGUARD, there is the option of purchasing two tickets for the price of one. Visitors of EuroPride 2019 have the unique chance to attend the special performance of the successful musical "Bodyguard". The united stages of Vienna will show the popular film as a musical on the big stage.
The German stage version of the 90s movie hit brings glamour and romance to the stage at the Ronacher – with the fantastic original songs in English (dialogues in German with English surtitle).
The huge success of the 2012 musical – like that of the 1992 film starring Whitney Houston and Kevin Costner – is mostly based on the world-famous songs. The film's soundtrack won a Grammy Award. The title song I Will Always Love You went on to become one of the biggest hits. With over 45 million recordings sold, the Bodyguard is the most successful film music album of all time.
The musical adaptation by Oscar winner Alex Dinelaris created a stage version that is the movie's equal in terms of glamour, excitement and romance. In the German-language production (Austrian premiere!), the songs are sung in English – a moving live experience. A number of Whitney Houston hits that are not included in the film soundtrack provide that gooseflesh feeling in the musical: One Moment in Time, I Wanna Dance With Somebody, I Have Nothing, Saving All My Love and several others.
Tickets at pride.musicalvienna.at