Queer Art Space Vienna
4. June 2019@13:00-18:00
Free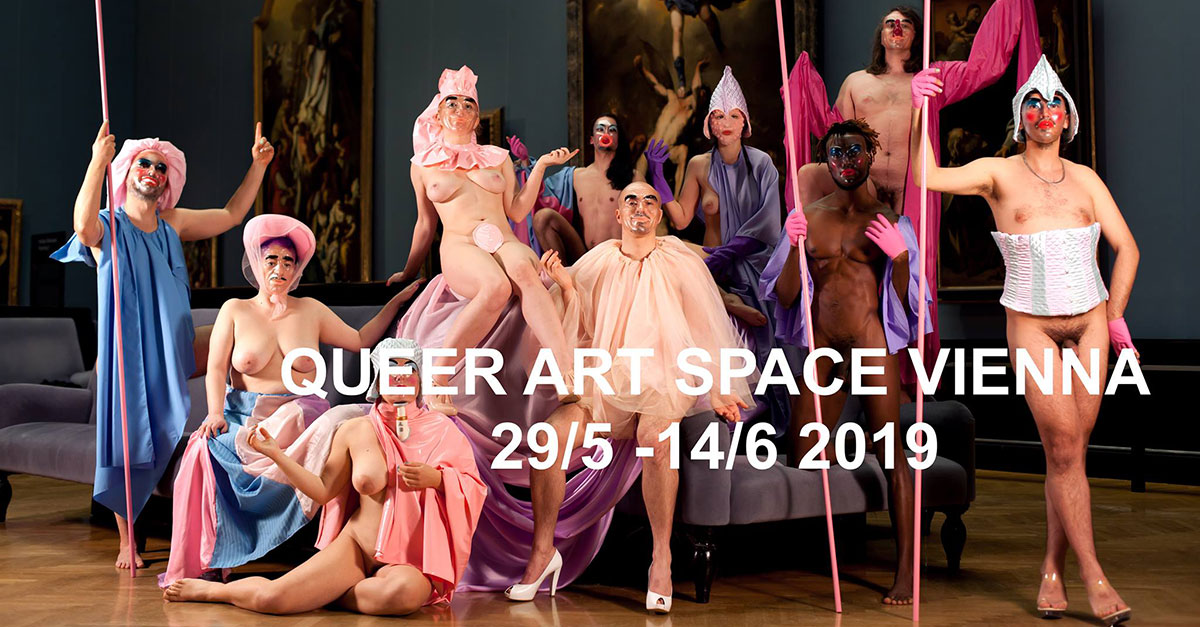 Exhibition with works by Aschka & Kopp, Asgar/Gabriel, Assunta A.A.M., Julia Farber, Julia Fuchs, Robert Gabris, Matthias Herrmann, Jakob Lena Knebl, Andrew Mezvinsky, Martina Mina & Sabine Schwaighofer, Roland Reiter, Michal Rutz, Leila Samari & Maryam Sehhat, Toni Schmale, Walter Seidl/Stefan Geissler, Philip Timischl, Violet, Peter Wehinger.
Organised by Gülsen Bal, Michael Kaufmann, Gerhard Pruegger, in collaboration with Kunsthalle Exnergasse.
Art serves as an important medium for creating a contextual ethical awareness, be it in social, economic, political, or cultural realms. The exhibition "Queer Art Space Vienna" attempts to provide insights into Vienna's dynamic queer art scene. Here "queer" refers to artistic and cultural practices, which provoke interactions between artwork and spectator — by questioning heteronormative power relations — and therewith shifts in the sociopolitical context. Various performances, lectures, and talks accompany the exhibition.
Opening hours
Tue-Fri, 1.00 p.m. – 6.00 p.m.
Closed Sat-Mon and public holidays
Free admission!
Programme
Tue, 28 May, 6.00 p.m. Exhibition opening & After Party from 10 p.m. at Felixx, 1060 Vienna, Gumpendorfer Straße 5
Wed, 29 May, 4.00 p.m. Guided tour with curator
Fri, 31 May, 5.00 p.m. Guided tour with curator
Fri, 31 May, 10.00 p.m. Performative Clubbing: Naughty Night – Kunstspatzi, Marea Alta, 1060 Vienna, Gumpendorfer Straße 28
Tue, 4 June, 6.00 p.m. Talk: Queer Art Vienna – Queer Curating, with Juliane Saupe (Moderation), Cristiane Erharter (Curator), Michael Kaufmann (Curator) (in German)
Fri, 7 June, 2.00 p.m. Guided Tour: Führung von der Tiefen Kümmernis (in German)
Tue, 11 June, 6.00 p.m. Talk: Queer Space Vienna – Queere Räume in der Stadt, with Monika Mokre (Moderation), Markus Rumelhart (Bezirksvorsteher), Peter Kraus (Gemeinderat), Katrinka Kitschovsky (Tuntathlon) (in German)
Fri, 14 June, 2.00 p.m. Guided tour "Meine Sicht" by Martin Walkner (Kunsthalle Wien) and Gerhard Prügger