Walk4IDAHIT 2019 – Vienna
May 17th@17:00-20:00
Free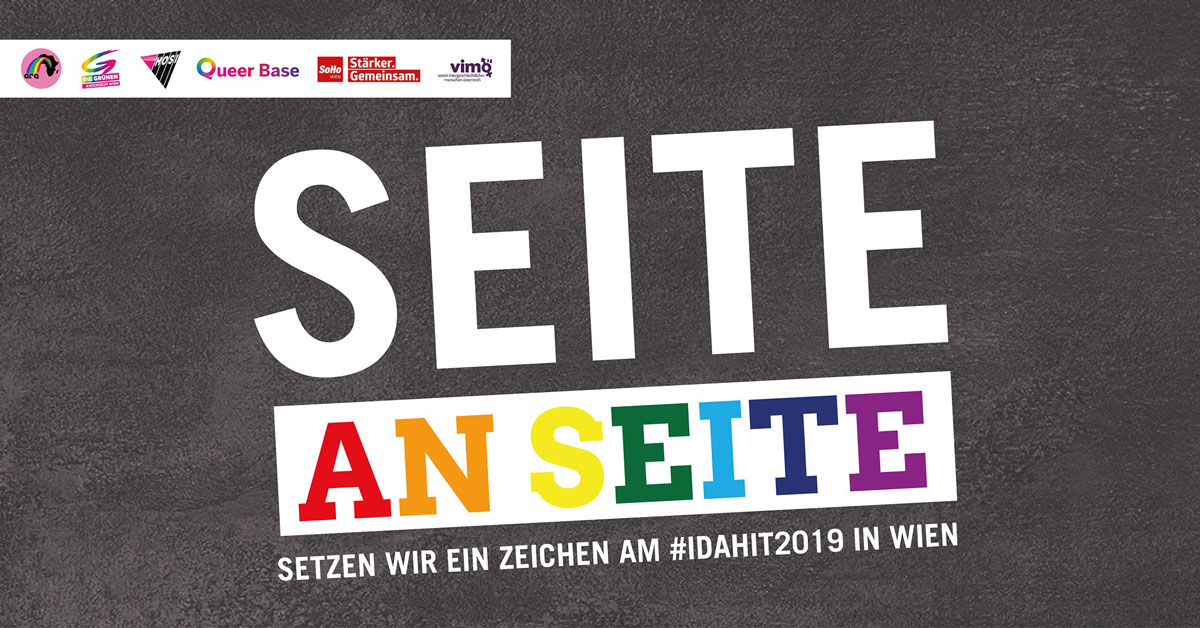 International Day against Homo-, Inter- and Transphobia in Vienna
"Side by Side" evokes the idea of solidarity and strength of alliances. It is not only about marriage equality, it is not only about "Homos" and not only about those with an Austrian passport. We want to fill the streets together side by side without borders between political parties, interests, sexual orientation, gender identity and sex markers to stand for rights for all. We also go on the streets, who cannot (any more), for example, victims of the persecutions in Chechnya, deported people, intersex kids or victims of hate crime.
SIDE BY SIDE for IDAHIT Vienna 2019
In celebration of the International Day against Homo-, Inter-, Transphobia let's light a beacon against unsolidary policies and the extreme right. The LGBTIQ community is not mentioned with a single word in the governments' program this calls for bringing our strength even more together! That is why we are marching side by side for an equal and self-determined society.
This government is not only ignoring us but creating more obstacles. For example for Queer refugees, ignorance towards decisions by the highest courts, simply access to marriage for really everyone or the third gender in documents, or the fight against hate and discrimination. The resentment in Austrian society and government is the reason for having a higher suicidal rate within the LGBTIQ community. Marginalization and discrimination kill.
It doesn't matter who we are, who we love and how we define ourselves – in this country we all need to have the same rights and chances! To show our visibility and strength HOSI Wien, Queer Base, VIMÖ, die SoHo, die Grünen Andersrum and Afro Rainbow Austria together organise this demonstration to the Platz der Menschenrechte (Plaza of Human Rights)!