Rainbow Parade / 15 June 2019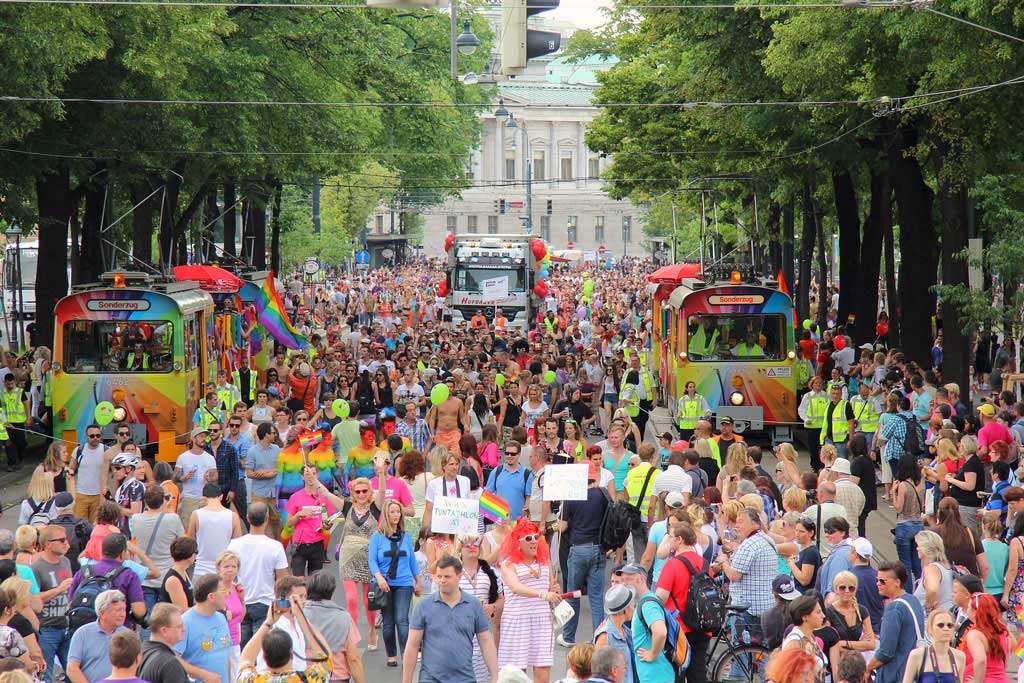 On 15 June 2019 the Viennese Rainbow Parade will pass along Wiener Ringstrasse the for the 24th time. Lesbian, gay, bi, straight, trans, cis, inter and queer people will march for love, respect, and a world free from discrimination. The parade will start at 12 noon in front of Rathausplatz (the square in front of the Viennese city hall). A warm-up starts at 10 a.m. at the Pride Village.
The parade will proceed against the driving direction around the whole Ring and Kai until we arrive at the Pride Village again. The celebration will continue with speeches from activists and politicians. A prize for the best parade contribution will be awarded. Local and international acts will entertain on our big stage. Despite the Rainbow Parade being great fun, it is an important political demonstration, thus HOSI Wien urges all participants to voice their concerns with banners, t-shirts, etc.!
Despite its relaxed, party-like atmosphere, the Rainbow parade is an important political demonstration. Thus HOSI Vienna is making an appeal to all participants and viewers to show their concerns with banners, t-Shirts etc!
ROUTE / STARTUP / SETUP PLAN
The participating groups will gather on Saturday, 15 June 2019, from 10 a.m. between Rathausplatz (city hall square)/Burgtheater and the Federal Police Headquarters at Schottenring.
The Pride Parade starts at 12 noon and moves along the Ringstrasse in the opposite direction of traffic. The front of the parade is expected back at Rathaus at about 4 p.m..
The moment of remembrance takes place at 3 p.m.. The entire parade stands still and we commemorate those people who can no longer celebrate with us.
We cordially invite all people to march with us. The more people we are, the more visible the message we send. The parade ​is ​free ​for ​the ​public ​to ​attend ​and ​does ​not ​require ​registration.
Groups who would like to participate "officially" in the Rainbow Parade, as well as entries with floats and vehicles must register for the Rainbow Parade!
Every year numerous organizations and private groups take part in the Rainbow Parade. You can support groups or simply march with them.
Entries seeking support or offering the possibility to ride on their float can provide information on how to reach them.