On the 50th anniversary of the Stonewall riots, which are often considers to mark the birth of the modern LGBTIQ rights movement, Vienna will host EuroPride, taking place from 1st until 16th June 2019.
In cooperation with Vienna's historic landmarks and tourist attractions, we have created a two weeks programme of more than 30 Pride events highlighting LGBTIQ arts, culture and sporting activities including a relaxing Beach Day, running for acceptance at the Pride Run, and a fun Family Day at the famous Schönbrunn Zoo. The spirit of EuroPride will be celebrated with an unforgettable festival at Pride Village and Pride Park, taking place at Vienna's City Hall Square in front of the Votiv Church respectively, including an amazing line-up of international and local music artists and of course the EuroPride Parade.
"Pride-Schiene" Europa
Travel with Nightjet or Railjet by ÖBB – The "Official Carrier" for EuroPride 2019
Lufthansa Group Airline Partner
Make your reservation with our partner Lufthansa!
Click on "Make a Reservation" and enter the access code in the "Offer for discounted flights" area. This will open an online booking platform that will automatically calculate the discount offered or provide you with an even better offer if another promotional fare is available.
NOTE: Pop-ups must be enabled otherwise the booking platform window will not open.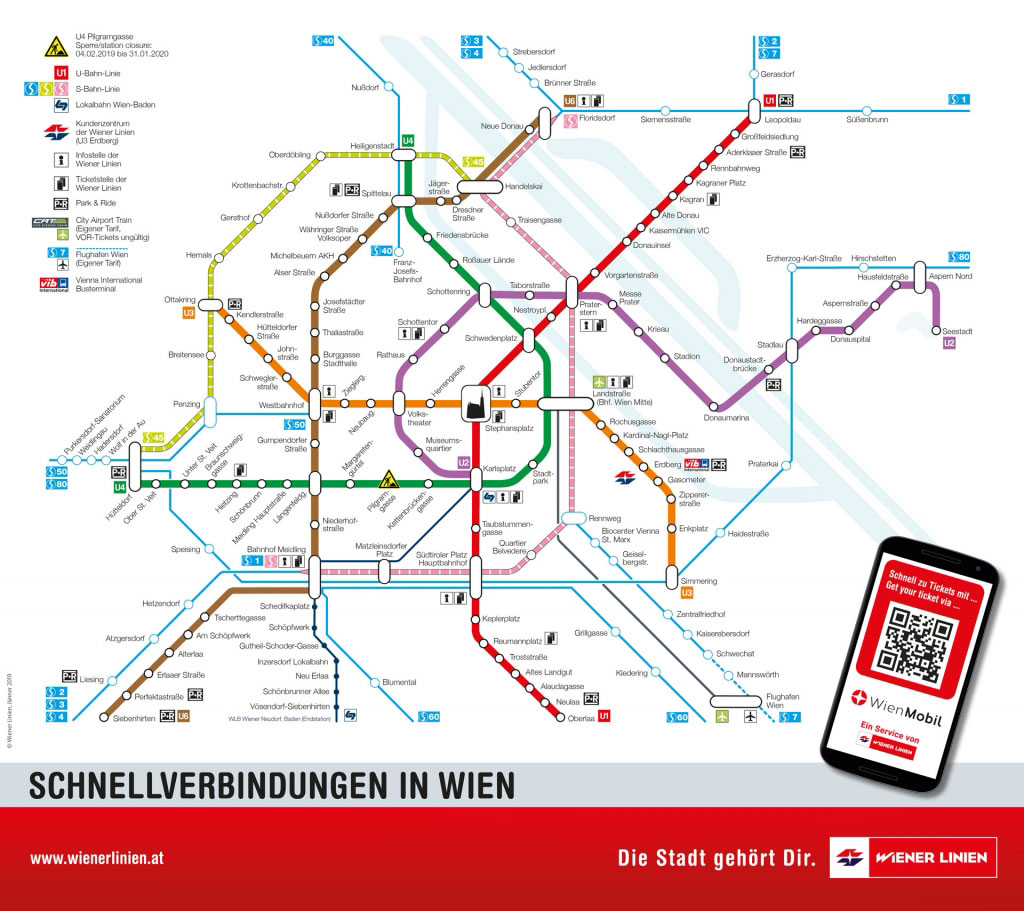 Explore the city proudly with the Wiener Linien EuroPride ticket!
You can also book with our "proud & trustful" partner – booking.com. Please find a list of "proud & trustful" partner hotels on booking.com (use the filter function for EuroPride Vienna 2019 Partner Hotels).
Vienna's unique Pride sightseeing tour with Big Bus (supported by QWIEN)!
1st June 10.00 am & 12.00 pm (GE)
10th & 11th June 10.00 am & 12:00  (EN)
12th & 13th June 10.00 am, 12.00 pm & 2.00 pm (EN)
14th June 10.00 am & 4.00 pm (EN)
16th June 4.00 pm (EN)
Hop on in front of the Votiv Church (entrance) and
get your Pride sightseeing tour ticket on board!
The route leads along the Ringstraße incl. Naschmarkt and Belvedere Castle and lasts about 60-75 minutes.
With its successful blend of imperial tradition and contemporary creativity, the Austrian capital has established itself as a major travel destination.
Vienna is not only the capital of Austria, but also one of its nine federal states. The city covers 415 square kilometers and is divided into 23 districts. With woods, grassland, parks and gardens accounting for almost half its area, Vienna is the city in Europe with the highest ratio of green space. "Urban green" such as Stadtpark (with one of the most frequently photographed sights in the city, the golden Johann Strauss monument) is joined by the woods and grassland of Prater, the extensive Schönbrunn Palace Gardens, sections of the Vienna Woods, vineyards, farmland and the wetlands of the legendary Danube River. During the summer temperatures rarely rise above 30º C, and in winter they hardly ever fall below -5º C. Schönbrunn Palace and its park were added to the UNESCO World Cultural Heritage list in 1996, followed by the historic city centre in 2001.
Vienna breathes LGBTIG* history like almost no other European city. Homosexual emperors, warlords, princesses and composers once lived here. Today, the flourishing LGBTIQ scene makes the city a perfect holiday destination.
Although Vienna does not have a predominantly LGBTIQ neighbourhood, there is a vibrant and diverse LGBTIQ scene centred around the Naschmarkt, which connects the fourth and sixth districts. As part of a local tour, you can walk to the 20 relevant restaurants on foot, including such popular restaurants as the Willendorf and Sixta, the self-governing community get-together Gugg of the HOSI Vienna, and several bars and cafes such as Savoy, Mango, Felixx, the Kisss Bar, Village or Marea Alta, just to name a few. In addition, there are many venues and places in Vienna that welcome our community.
In the last 20 years, numerous annual major LGTBIQ events have been established in Vienna. These include the Wiener Regenbogenball and the Rosenball, among the more than 400 balls that take place during the carnival season in Vienna. The queer film festival "identities" takes place every two years, and the International Queer Minorities Film Festival "Transition" every year. With "Wien in Schwarz", the fetish scene gets together every year, and Vienna Pride with its Pride Village and Rainbow Parade is, of course, the absolute highlight of the LGBTIQ annual calendar.
The Vienna City Card joins the celebrations!
The Vienna City Card joins the celebrations and offers all EuroPride visitors special advantages and a 10% discount: www.viennacitycard.at
For over 25 years, the Vienna City Card has been the first choice of tourists to Vienna. With the flexible offer, you can explore Vienna and its sights for 24/48/72 hours by public transport. With every Vienna City Card you can save up to 50% / € 45 per day with over 210 advantage partners with discounts and reduced rates.
Get up-to-the-minute information on Facebook at LGBT Vienna. Find a comprehensive guide through Vienna's LGBTIQ community at Vienna for LGBT.
Tourist Info Vienna
Albertinaplatz/Maysedergasse
1010 Vienna
Daily from 9.00 am – 7.00 pm
Tourist Info Vienna Airport
in the arrival hall
Daily from 7.00 am – 10.00 pm
Tourist Info Vienna Main Station
in the InfoPoint of ÖBB
Daily from 9.00 am – 7.00 pm