For EuroPride 2019 Vienna will have a second location in addition to the EuroPride Village for the first time: the EuroPride Park. On the EuroPride weekend we invite you to the Sigmund-Freud-Park to celebrate and relax.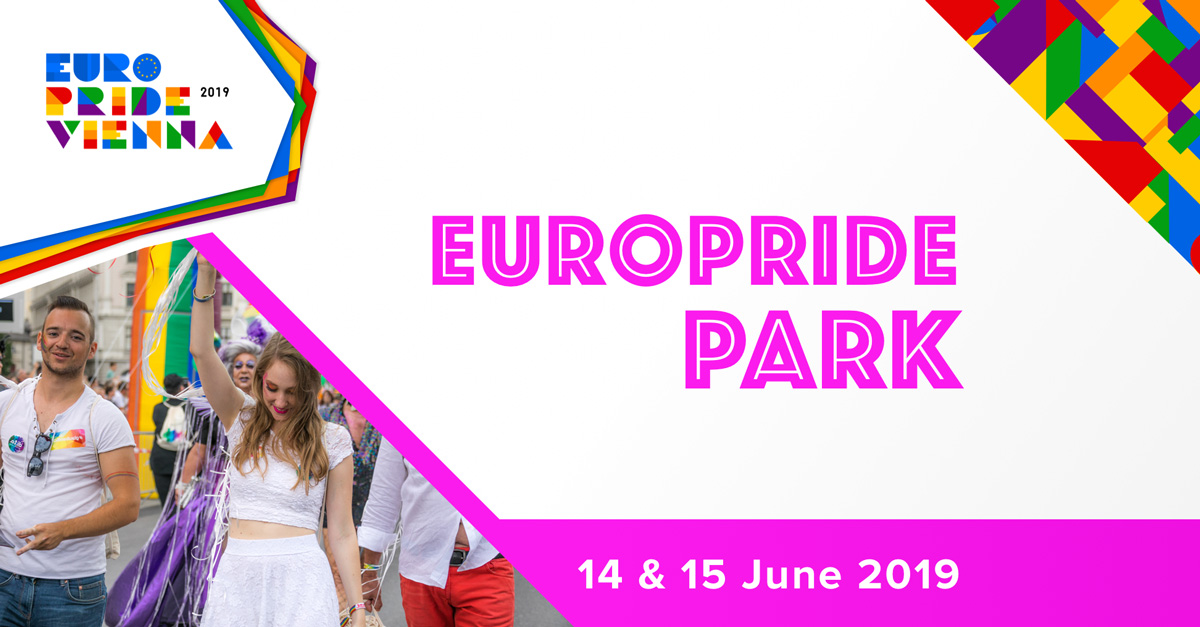 In addition to EuroPride Village on Rathausplatz, there will also be the EuroPride Park in Sigmund-Freud-Park in front of the Votivkirche. A stage, restaurants, NGOs and a varied programme await you here as well!
Admission to all events at EuroPride Park is free!
Opening Hours
| | |
| --- | --- |
| Friday, 14.6.19 | 16:00 – 23:00 |
| Saturday, 15.6.19 | 12:00 – 23:00 |
Food and Drinks
1 Michl's heiße Hütte
2 Cafe Monic & Öl
3 UsUs, Das Werk
4 I eat Vienna
5 Tasty Langos
6 MERKUR Vegetarisch/Vegan
NGOs and Info
A Checkit! (Suchthilfe Wien)
B Samstag-Shop
C Wienwoche Festival, Afro Rainbow Austria, Fremde werden Freunde
D Queer as Deaf, dis_ability mad pride
E Que[e]rbau Wien, fairplay
F visiBi*lity Austria, Gender*Galaxie
G Virtual Closet Project, Prague Pride
H Enough is enough, Zara, Klagsverband
Friday, 14 June
16:00-24:00
Moderation: Mag.a Dr.in Ewa Dziedzic
Visuals: Neon Golden: Paola Demicheli, Giorgia Scaramuzza, Louis Ohlow & GenderCrash: Ela Sattler & Offerus Ablinger
16:00 Welcome
16:15 Towander Flagg-Lesung: Der Galgen fragt nicht, welcher Hals: Ein Revulva-Western (DE)
16:45 ACAB Activist Comedy Against Bullshit
18:00 Highdentity live
18:45 Joanisch (Puppenhouse)
19:15 SYN3A & Mandy Mozart live (Vienna Struggle/Shalom Salon)
20:30 DJ Angel (Hyperreality)
21:15 Therese Terror (Bliss, Hyperreality)
22:00 Joyce Muniz (Exploited, Gigolo Rec.)
Saturday, 15 June
12:00-24:00
Moderation: Tim Dworschak, Claudia Sandler, Mel Merio
Visuals: sound:frame/Luma.Launisch & Friends
12:00 Welcome
12:15 Barbi Marcović-Lesung: Ausgehen/ein Remix (DE)
12:30 Underground Wrestling by WUW
13:00 Wienwoche 2019 pres. "bitches & witches"
13:30 Infinite Palace (ex Crazy Bitch in a Cave) live
14:15 Tonica Hunter live
15:00 FEMME DMC pres. Dacid Go8lin, Soulcat E8 & DJ Yomomma
16:15 Spinelly (Duzz Down San)
17:00 Mayr Unrecords live
17:45 Pulsinger & Irl live (Big Beak)
18:30 Anna Leiser (Bebop Rodeo)
19:00 Live-Screening of Pride Celebration
19:30 GNUČČI live
21:00 Electric Indigo female:pressure/imbalance computer music
22:00 Gerald VDH (Meat Market, Meat Recordings)
Due to the high number of visitors this year, the authorities have stipulated that EuroPride Village (Rathausplatz) and EuroPride Park (Sigmund-Freud-Park) must be fenced in. This is for the safety of all of us!
For this reason, the following items may not be taken onto the site
Glass bottles of any size
Alcohol
Scooters
Bicycles
weapons of any kind
Spray cans
Also prohibited:
The carrying along of animals with the exception of guide dogs and assistance
dogs is prohibited. Those must wear a harness.
If necessary, you may have to expect checks on persons and/or bags. This also serves the general safety.
The complete house and site rules are available for download below.
By entering Sigmund-Freud-Park, the visitor submits to the house and site rules described in the PDF available for download below.