EuroPride Vienna proudly presents the EuroPride Village at the Rathausplatz (City Hall Square).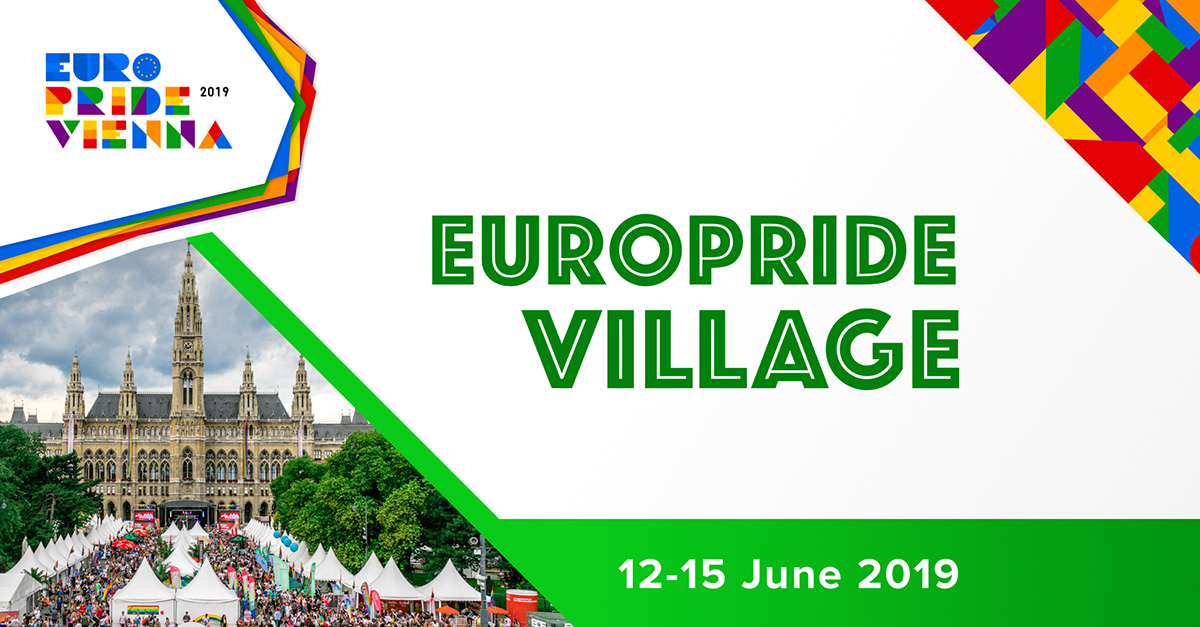 Pride Village at the Rathausplatz
EuroPride Vienna proudly presents the Pride Village at Rathausplatz right in front of the city hall of Vienna. Celebrate with us the diversity of Vienna's LGBTIQ family! Organisations will present themselves and refreshments will be offered by trendy bars and restaurants. On the Pride Stage, local and international acts will perform and present a magnificent show to you.
The entrance for all events at the Pride Village is free!
Wednesday, 12 June 2019, 4 p.m. – 10 p.m.
Thursday, 13 June 2019, 1 p.m. – 10 p.m.
Friday, 14 June 2019, 1 p.m. – 11 p.m.
Saturday, 15 June 2019, 10 a.m. – 11 p.m.
Food and Drinks
1 Daily Deli
2 Ingwerer
3 Village Bar
4 Why Not
5 Kaiserbründl
6 Cafe Savoy, Römersauna
7 Remmi Demmi Company
8 Marea Alta
9 Wirr
10 15 süße Minuten
11 Brendl Bar
12 Panini Grill Bar
13 Ischler Lebkuchen
20 i eat Vienna
42 Tasty Langos
43 Andis Arancini
44 Stefan's Grill
45 Daily Deli
46 Vietnam Deli
47 Wonder Waffles
48 MERKUR
Political Parties and others
19 Stadt Wien + WASt + Frauenservice Wien
21 NEOS
22 Green Party
23, 24 SoHo
25 AK Wien + ÖGB
NGOs and Info
17 Queer Universities and Higher Education Institutes
29 Sport Clubs: Aufschlag, Kraulquappen, Pride Run Vienna
30 Queer Base, queerconnexion, Homosexuelle und Glaube, VIMÖ
31 Queeramnesty, Gay Cops Austria, Gemeinsam.Sicher (LPD Wien)
32 Aids Hilfe Wien
33 HIV + Hepatitis Testing Station
34 Häuser zum Leben und Pensionistenclubs, queerMaschen
35 Lesbian and women's* Tent
36 Bookstore Löwenherz
37 COURAGE
38 Tabera & TMA, Trans-Austria
40 Kids Zone – FAmOS
41 Youth Zone – HOSI Wien Jugendgruppe
49 HOSI Wien and Volunteers Info
50 EuroPride 2019 Info
Companies
14 Spanish Tourist Board
15 Malta Tourism Authority
16 Erste Group
18 BIPA
26 Wien Energie
27 di.to (REWE Group) / BIPA
28 Almdudler
39 Ampelpärchen Rocks Shop
Due to the high number of visitors this year, the authorities have stipulated that EuroPride Village (Rathausplatz) and EuroPride Park (Sigmund-Freud-Park) must be fenced in. This is for the safety of all of us!
For this reason, the following items may not be taken onto the site
Glass bottles of any size
Alcohol
Scooters
Bicycles
weapons of any kind
Spray cans
Also prohibited:
The carrying along of animals with the exception of guide dogs and assistance
dogs is prohibited. Those must wear a harness.
If necessary, you may have to expect checks on persons and/or bags. This also serves the general safety.
The complete house and site rules are available for download below.
By entering Rathausplatz in the entire area between Rathaus and Burgtheater as well as the fenced area of Rathauspark, the visitor submits to the house and site rules described in the PDF available for download below.