EuroPride Vienna präsentiert voller Stolz das EUROPRIDE VILLAGE am Wiener Rathausplatz.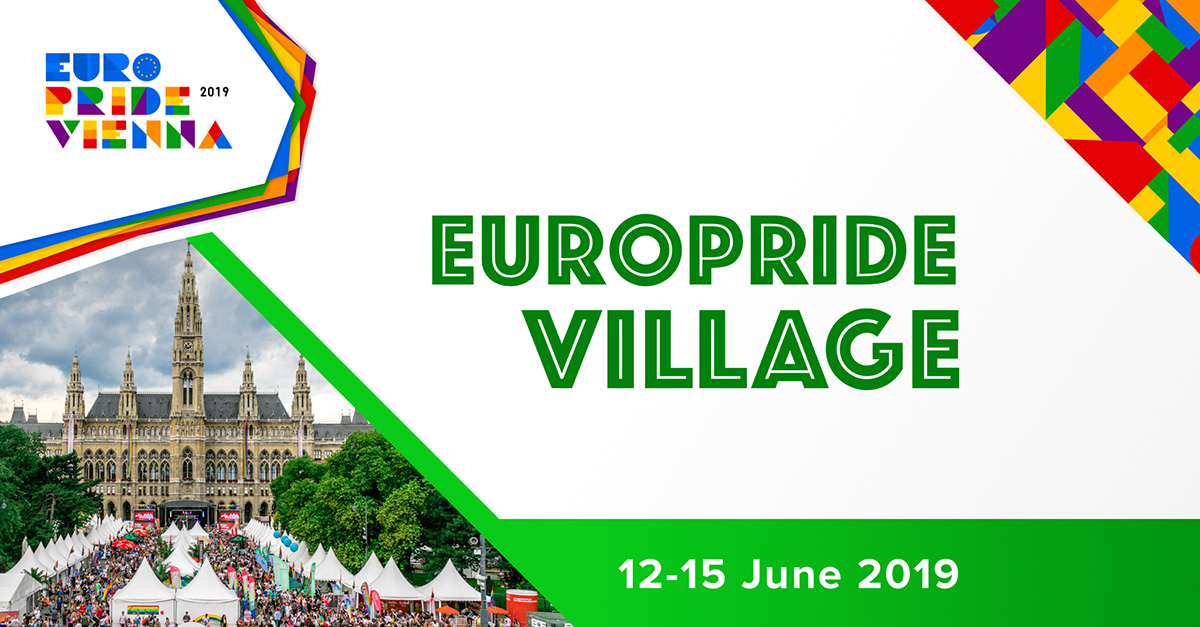 Pride Village am Wiener Rathausplatz
Feiere mit uns die Diversität von Wiens LGBTIQ-Familie mit viel Spaß und Freude. Zahlreiche Vereine sind vor Ort und informieren über ihr Angebot, Szenelokale sorgen für Erfrischung und heimische und internationale Acts auf unserer großen Bühne – der PRIDE STAGE – für Unterhaltung.
Der Eintritt für alle Veranstaltungen am Rathausplatz ist kostenlos!
Mittwoch, 12.6.2019, 16:00 – 22:00
Donnerstag, 13.6.2019, 13:00 – 22:00
Freitag, 14.6.2019, 13:00 – 23:00
Samstag, 15.6.2019, 10:00 – 23:00
Essen und Trinken
1 Daily Deli
2 Ingwerer
3 Village Bar
4 Why Not
5 Kaiserbründl
6 Cafe Savoy, Römersauna
7 Remmi Demmi Company
8 Marea Alta
9 Wirr
10 15 süße Minuten
11 Brendl Bar
12 Panini Grill Bar
13 Ischler Lebkuchen
20 i eat Vienna
42 Tasty Langos
43 Andis Arancini
44 Stefan's Grill
45 Daily Deli
46 Vietnam Deli
47 Wonder Waffles
48 MERKUR
Politische Parteien und Servicestellen
19 Stadt Wien + WASt + Frauenservice Wien
21 NEOS
22 Green Party
23, 24 SoHo
25 AK Wien + ÖGB
Vereine
17 Queer Universities and Higher Education Institutes
29 Sport Clubs: Aufschlag, Kraulquappen, Pride Run Vienna
30 Queer Base, queerconnexion, Homosexuelle und Glaube, VIMÖ
31 Queeramnesty, Gay Cops Austria, Gemeinsam.Sicher (LPD Wien)
32 Aids Hilfe Wien
33 HIV + Hepatitis Testing Station
34 Häuser zum Leben und Pensionistenclubs, queerMaschen
35 Lesbian and women's* Tent
36 Bookstore Löwenherz
37 COURAGE
38 Tabera & TMA, Trans-Austria
40 Kids Zone – FAmOS
41 Youth Zone – HOSI Wien Jugendgruppe
49 HOSI Wien and Volunteers Info
50 EuroPride 2019 Info
Firmen
14 Spanish Tourist Board
15 Malta Tourism Authority
16 Erste Group
18 BIPA
26 Wien Energie
27 di.to (REWE Group) / BIPA
28 Almdudler
39 Ampelpärchen Rocks Shop
Aufgrund des hohen Zahl von Besucher*innen, ist es heuer von behördlicher Seite vorgeschrieben, das EuroPride Village (Rathausplatz) und den EuroPride Park (Sigmund-Freud-Park) einzuzäunen. Das ist zu unserer aller Sicherheit!
Aus diesem Grund dürfen folgende Gegenstände nicht auf den Platz mitgenommen werden
Glasflaschen (egal welcher Größe)
Alkohol
Roller / Scooter
Fahrräder
Waffen
Spraydosen
Außerdem noch verboten ist:
Die Mitnahme von Tieren, außer Blindenführ- und Partnerhunde – diese müssen ein Führgeschirr tragen.
Gegebenenfalls ist mit Personen- und/oder Taschenkontrollen zu rechnen. Auch das dient der allgemeinen Sicherheit.
Die Gesamte Haus- und Platzordnung ist steht nachfolgen zum Download zur Verfügung.
Durch Betreten des Rathausplatz im gesamten Bereich zwischen Rathaus und Burgtheater sowie des Bereiches des Rathausparks, unterwirft sich der*die Besucher* der Haus- und Platzordnung, die unten als PDF zum Download bereitsteht.